Leather furniture sets are always the first choice of customers because of the luxurious and classy space they bring. One of the advantages of genuine leather furniture when it comes to feeling "the more you use it, the more you like it" with its smoothness and durability after a period of use. To be able to use it for a long time, cleaning leather furniture is especially important to keep the interior beautiful as well as increase its lifespan.
High-grade furniture such as genuine leather sofas Made from natural leather that has been treated, still retains some of the characteristics of real leather – this is something you need to pay special attention to for proper cleaning and maintenance.
Cleaning needs to be done daily, weekly, and monthly to get the best care. However, many people make mistakes when taking care of leather furniture because they do not learn carefully. So please refer to the article below to avoid mistakes when cleaning leather furniture.
Clean leather interiors with detergent.
This is one of the most common errors when cleaning leather furniture. For example, in a leather sofa set, when encountering stubborn or subjective stains, you use detergents to clean the sofa surface. You can see that the user has an immediate effect as the sofa will be cleaner but will damage the internal structure of the real leather.
In detergents containing a lot of acids, it will directly affect the surface of the leather such as abrasive surface, causing the sofa to be discolored, peeling, or swollen. In the long run, it will make the real leather sofa no longer beautiful but will be damaged faster. If you want to use cleaners, look for ones specifically made for genuine leather to ensure the safety of your seats.
Expose leather furniture to high heat.
Some people have a habit of putting leather furniture in the sun or placing them in places with light to help them not be affected by moisture and stay dry. This is completely wrong to make the leather furniture quickly dry, hard and thereby causing the surface to peel, crack, and stain.
Due to the structural characteristics of animal skin, it still retains the characteristics of real leather, so it is essential to avoid direct sunlight. Clean regularly so that your leather furniture is always dry and beautiful instead of drying in the sun.
Use a rough cloth to clean the leather interior surface
When cleaning leather furniture in the living room, you are always reminded to use a soft cotton towel to keep the surface beautiful. However, many people do not notice and use rough clothes, and old clothes to clean – This is especially dangerous for real leather furniture. Rough cloths will be able to scratch the surface of the skin, affecting the aesthetics. In addition, your leather interior can also get surface dirt when using those bad clothes. So it's best to prepare a soft towel to quickly and properly clean your leather furniture.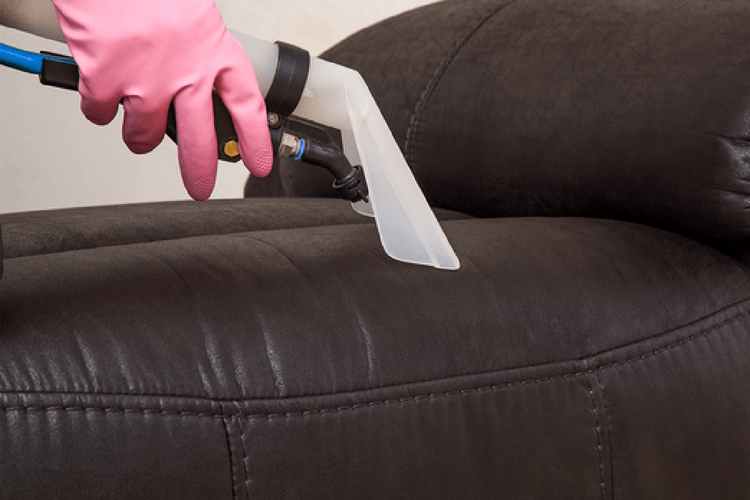 Read more articles: https://www.trickymag.com/
How to clean leather furniture
Using a vacuum cleaner, vacuum your friend's furniture. As with upholstery, vacuuming regularly will keep your furniture clean. Leather sofa cushions, or leather car seats, always have small slits, small nooks, and crannies filled with dirt, hard to get, use professional tools to vacuum, or blow away the dust in the slots, to make sure you can reach every nook and cranny in the piece of furniture.

Using the natural method, use a mixture of vinegar and water, dilute in approximately equal proportions, and mix in a bucket. Use a soft, lint-free rag, wring it out to get it wet, and clean the leather furniture. Wash the mop regularly, to avoid dirt and dust, it is best when you see a dirty rag, you should flush, rinse and wipe the surface of the sofa, leather curtain, etc. 

In addition, you can also use lemon juice in combination with detergent cream to clean white, cream, light-colored leather furniture …., rub the above mixture on the stain, soak for 10 minutes and wipe with dirt with a towel clean, rinse with clean water.

Use alcohol to clean spots, and ink stains on leather furniture, and car leather seats. Then dry with hot air dryers. 

When the leather interior gets dirty, you have to deal with it as quickly as possible. Because the longer the stain, the longer it sticks to the skin and is difficult to clean. You can use baking soda to clean small stains on the surface of the interior, then wipe it clean with a damp cloth and then let it dry. Baking soda, also known as baking powder, is not only useful in the process of cleaning leather furniture but can also be used to clean other furniture.
Conclusion
To have beautiful and durable leather furniture, regular and proper cleaning is extremely important. Keep in mind the notes that the above article has compiled to help your leather furniture always shine as well as have the longest life. Finally, don't forget to find discount codes on Couponupto.com to save money when cleaning leather furniture.